In order to hide the precious cargo, a "deep hole" was dug in the grounds "beneath a sally port, one of the secure entries to the castle, and two chambers constructed with steel doors", according to The Times.
And now, in a new documentary arranged by the Smithsonian Institute, the Queen is spilling some age-old secrets.
"You can't look down to read the speech, you've got to take the speech up, if you don't your neck would break, it would fall off", the Queen said referring to the annual ceremony of the opening of the British Parliament, and the state speech where she reads the Government's programme.
He told The Times: 'What was so lovely was that the Queen had no knowledge of it.
Expert on the Crown Jewels, Alastair Bruce, who is in conversation with the Queen, says: "I mean it was huge then".
A trapdoor used to access the secret area where the tin box was kept still exists today.
She reportedly jokes that you "cannot look down" while wearing the 2lbs, 13oz Imperial State Crown or you neck would "break".
This is the first interview the Queen has given throughout her six-decade reign.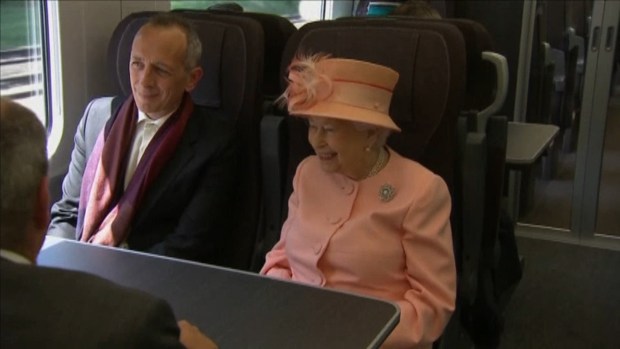 Queen Takes Train 175 Years After 1st Royal Ride
"So there are some disadvantages to crowns, but otherwise they're quite important things".
In the hour-long program "The Coronation", Queen Elizabeth gives viewers her personal account of the memorable event that took place 65 years ago, sharing just what it was like to be in her shoes.
The Queen made the comments when recording an upcoming BBC documentary entitled 'The Coronation' which delves in to her memories of the day she was crowned. [While] wearing regalia-that was designed for your forebear King Charles II-in 1661, including a crown that is five pounds in weight.:I just want you to imagine laying out five pounds of sugar bags and putting that on your head, but imagine it's a hat that is made to be too big for you.
The Queen responded: "Yes, very unwieldy".
To see the full interview, watch The Coronation on BBC One at 8pm on Sunday. "At one moment, I was going against the pile of the carpet and I couldn't move at all".
It is part of the Royal Collection season, in partnership between the BBC and Royal Collection Trust.
"The Coronation" will air in the US on January 14 at 8 p.m. ET on the Smithsonian Channel.
Rain, melting snow may cause flooding in Capital Region
"Periods of snow, sleet or freezing rain will cause travel difficulties", forecasters warn. This story does not necessarily represent the position of our parent company, IBM.